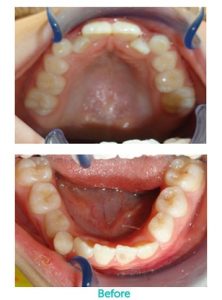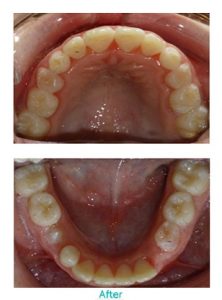 Early orthodontic care for children has become increasingly common. In fact, the American Association of Orthodontists now recommends that kids receive their first orthodontic examination by age 7. Depending on individual circumstances, the child's treatment can often begin soon thereafter.
Children's orthodontics, often referred to as interceptive orthodontics or phase one treatment, has a number of substantial benefits. One of the largest is the prevention of many potential issues with the child's teeth and oral structures, including crowding. Phase one treatment can be used to create enough room in the mouth for permanent teeth to come in comfortably, often reducing the need for adolescent treatment.
During phase one treatment, orthodontists have traditionally used standard metal braces. However, our Quality Orthodontic Care team may recommend treatment using Invisalign® clear aligners. While Invisalign has been used for decades to treat adult and adolescent patients, new research is showing that can be effective in phase one treatment as well. Clear aligners can achieve the same results as metal braces without the use of brackets and wires.
Invisalign is an increasingly popular choice for patients due to its convenience. Since the aligner trays are removable, treatment has minimal impact on diet and oral hygiene. These benefits are particularly pronounced for children, who are more prone to struggling with brushing and flossing after receiving braces.
Invisalign is not a viable phase one treatment option for all children. Dr. Brett Gluck and Dr. Zachary Levin will carefully evaluate your child's current and projected dental situation before making any treatment recommendations. But Invisalign clear aligners are an exciting new tool our team can use to help your child achieve a lifetime of oral health.
If you would like to learn more about children's Invisalign treatment in Johns Creek, Georgia, or schedule your child's first visit, we invite you to contact our friendly office today at 770-664-6003. We look forward to your call!