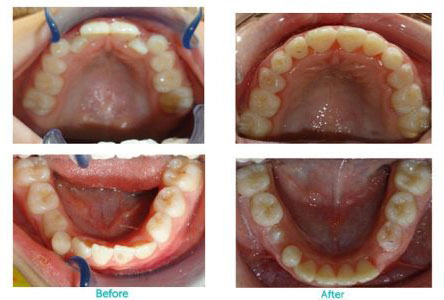 Quality Orthodontic Care is proud to be able to complete early (Phase I) treatment with Invisalign First. Early, or interceptive, treatment is aimed at managing conditions including, but not limited to, functional issues (chewing, breathing), early loss of baby teeth, trauma-prone tooth protrusion, and jaw misalignment.
Using Invisalign's patented technology modified for smaller, growing mouths, special features such as eruption compensation allow for an effective solution for treatment of the mixed (primary and permanent) dentition. With increased cleanability and comfort, and no dietary restrictions, changes to hygiene regimen, or irritation due to pokey wires, Invisalign First is an excellent introduction for children to orthodontic care.
Dr. John Fleming will determine if early orthodontic treatment may provide a benefit to your child. Skeletal growth can be closely tracked allowing jaws to be guided into position. Tooth eruption may be managed to efficiently direct teeth into alignment. Detection and correction of potential problems before they become more serious can ultimately help save time and money by potentially shortening duration of full treatment, even reducing or eliminating the possible need for tooth extractions.
Contact us today to schedule your child's free initial consultation to determine if Invisalign First is right for them.